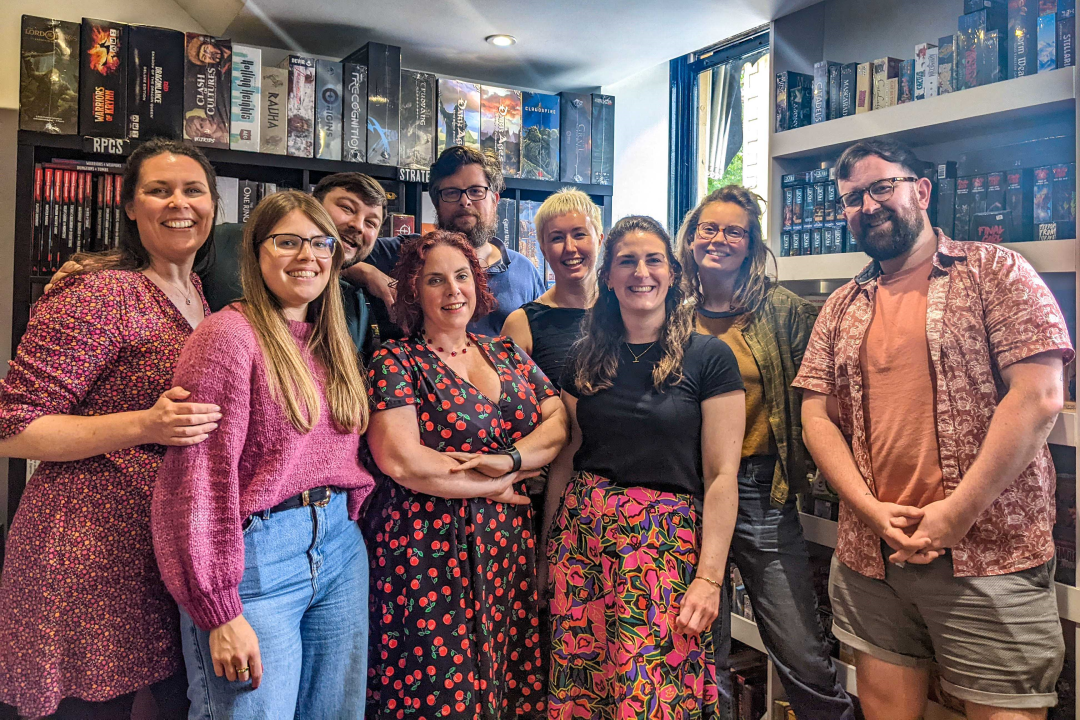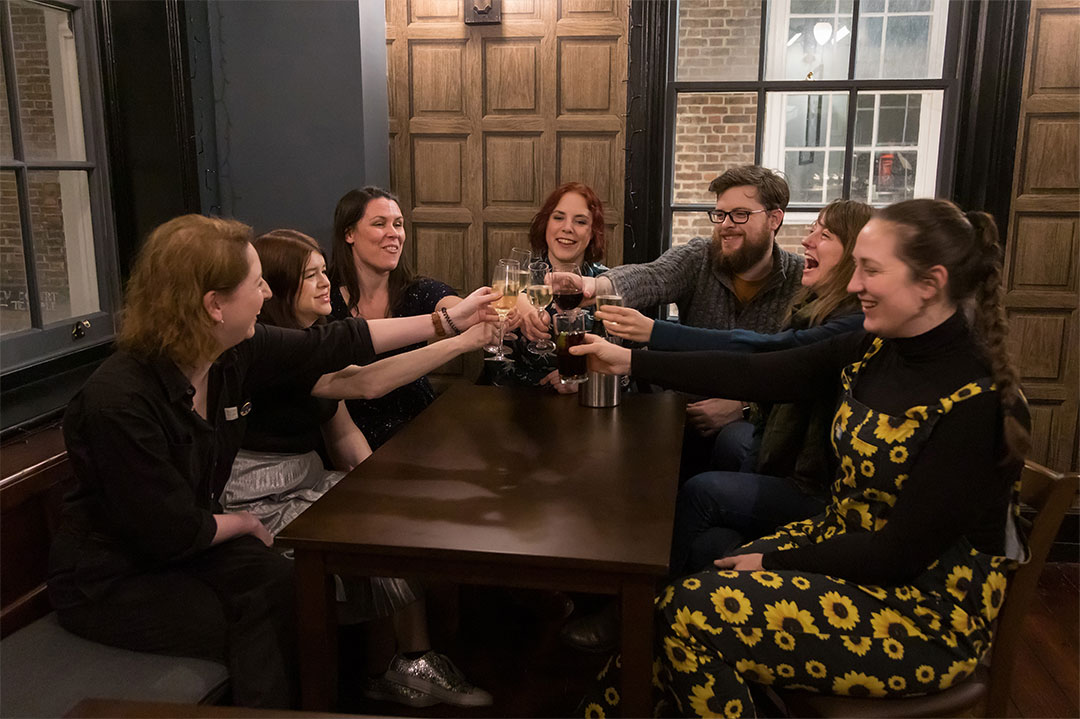 "If you wish to make an apple pie from scratch,
you must first create the universe."
Carl Sagan

Humans have used stories to remember and pass on ideas for thousands of years, from tales around a campfire to today's multimedia platforms. Sit down with us and we'll help you share your vision with the people who matter.
At First Create The Media, we believe that it's not enough to do great science. It needs context, clarity and a coherent story to make an impact and attract the right kind of attention.
We're a team of smart, talented people who can sniff out a story, create compelling messages and turn complex science into clear communications for a range of audiences.
Get in touch to find out how we can help you share your story.
QUALITY
Great science deserves great communication – we pride ourselves on doing every job well and delighting our clients.
UNDERSTANDING
We understand our clients' needs and their science, and we only work with organisations that understand the value of communication.

INTEGRITY
We're a no-nonsense company – we're not buying it, and we're not selling it either.
RESPECT
We treat everyone who works with us with respect – whether staff, contractors or clients – and we expect it in return.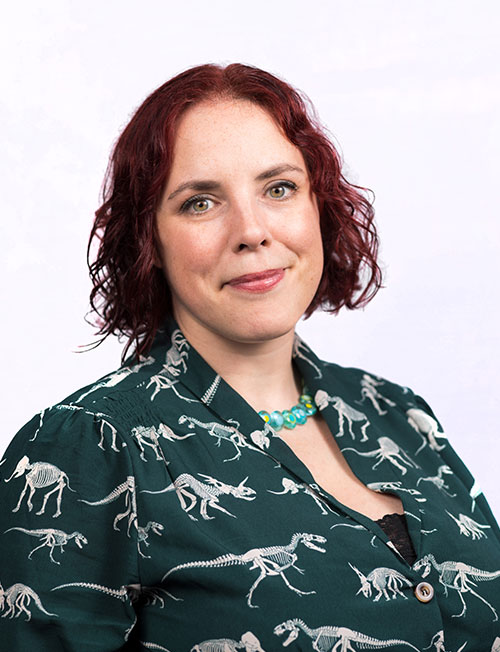 KAT ARNEY
Founder and Chief Creative Officer
Kat Arney is an award-winning science writer, public speaker and broadcaster. She founded First Create The Media in 2018, assembling a team of brilliant humans to help organisations in the life sciences tell their stories to the world.
Kat holds a first class degree in Natural Sciences and a PhD from Cambridge University. After leaving the lab, she spent 12 years in the science communications team at Cancer Research UK, co-founding the charity's ground-breaking Science Blog and acting as a principal media spokesperson.
Kat is the author of three books, Herding Hemingway's Cats: Understanding how our genes work, How to Code a Human and Rebel Cell: cancer, evolution and the science of life, and has presented numerous radio shows and podcasts, including Genetics Unzipped and The Suffrage Science podcast: How women are changing science, also produced by the team at First Create The Media, and Ingenious on BBC Radio 4, telling stories about our genes.
When she's not working, Kat loves making music, drinking single malt whisky and snuggling spaniels.
Connect with Kat on LinkedIn and follow her on Twitter @Kat_Arney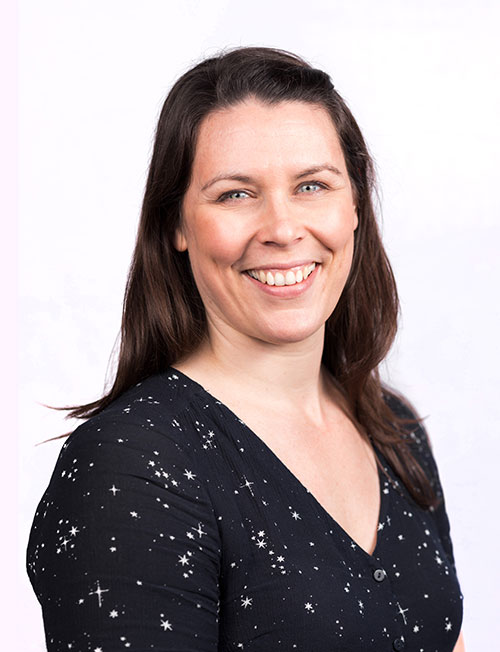 SARAH HAZELL
Chief Operations Officer
Sarah is responsible for the day-to-day running of First Create The Media.
She holds a PhD in Molecular Embryology. Before joining First Create The Media, Sarah worked in communications in the charity sector.
When she isn't organising the rest of us, Sarah likes to spend time with her dog Jura, playing Board Games and attending fitness classes.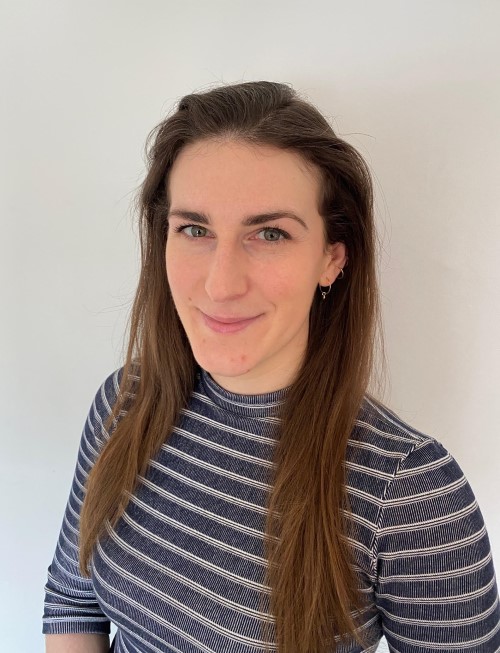 PHILIPPA SHELTON
Director of Strategy and Content
Philippa is responsible for working on strategic projects, helping to craft strategies for our clients​ and keeping our written content at the highest standard. She works closely with clients and manages our sought after freelance writers ensuring the team provides a flawless service.
She holds a first class degree in Biology and has worked across the research and life sciences sector with first-hand experience of funders, government, charities and professional institutions for nearly a decade.
Her background in science communication and policy means Philippa can put her hand to a broad range of health topics such as genetics, health data, healthtech, and biomedical engineering.
After a busy day of solving the why, who, what and how of client strategies, Philippa likes nothing better than finding her zen again by curling up with a good book and a scented candle on the go.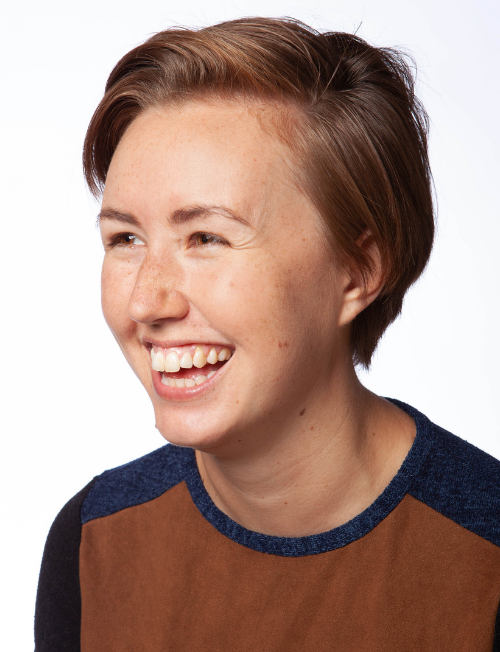 SALLY LE PAGE
Head of Audio and Video
Sally is responsible for producing audio and video content for our clients, sharing her wealth of experience communicating science through digital media.
She first started producing entertaining videos about biology on her YouTube channel in 2012, and has since presented a science show for Rooster Teeth and was the first YouTube Creator in Residence for General Electric. She produced the weekly Naked Scientists radio show and podcast for BBC 5Live and also communicates her passion for science as a public speaker at live events, having given talks at the Royal Institution as well as stand-up science comedy nights.
Sally holds a first class degree in biological sciences and a PhD in evolutionary biology from the University of Oxford, looking at fruit fly sex, death and cannibalism.
In her spare time, she can often be found pond dipping, paddleboarding and playing TTRPGs.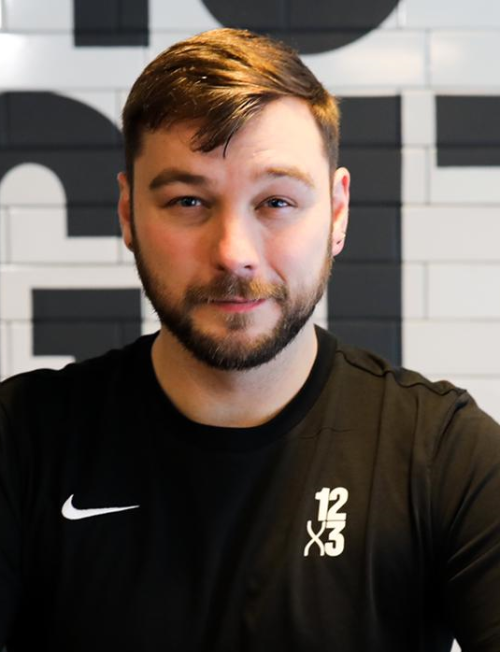 SHANNON PARKER
Head of Operations
Hailing from the sunny shores of Australia, Shannon is our Head of Operations and works with Sarah in the day-to-day operations of the agency.​ Aside from helping keep the good ship First Create The Media running smoothly, he is also in charge of paying everyone so we make sure to keep him well fed.
Shannon has a Bachelors degree in Media and Communications with Distinction and before joining First Create The Media, he worked within operations and communications teams across the rail and retail sectors.
When he isn't up to his eyeballs in process flows and spreadsheets, Shannon is an avid reader and loves a good board game.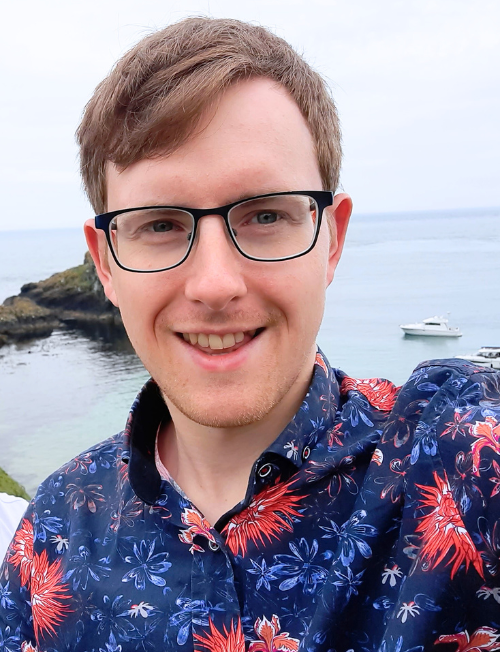 FERGUS POWELL
Head of Project Management
Fergus is responsible for crafting project plans and keeping projects running smoothly. He is based in the Operations team with Sarah and Shannon.
Fergus holds a first class degree in Natural Sciences and an MSc in Science Communication. He has previously worked within the higher education and research sectors to organise events, lead projects and engage with public groups.
When he isn't poring over to-do lists, you may find Fergus rehearsing for his latest theatre production or playing board games.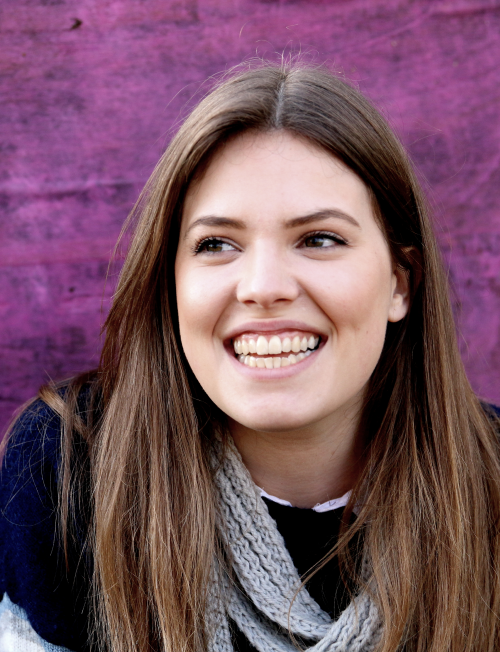 LAUREN ROBERTSON
Head of B2B Science Content
Lauren is responsible for the creation and delivery of content across our more technical life sciences clients, ensuring every project meets our high quality standards. 
As an experienced science writer and editor, she has previously worked for a genomics event and media production company, a B2B science publisher, and at a life science marketing agency. Prior to this, she taught English to students of all ages in sunny Spain! 
Lauren has a particular fondness for all things microbial (she holds a BSc in Microbiology, after all) but her career has allowed her to delve into topics as far-reaching as analytical chemistry, pharmaceuticals, multi-omics, and cannabis science. 
When she's done with work for the day, you will probably find Lauren indulging in one of her many hobbies — perhaps playing the latest cosy Switch game, enjoying a spot of knitting, or perusing recipe books for her next meal.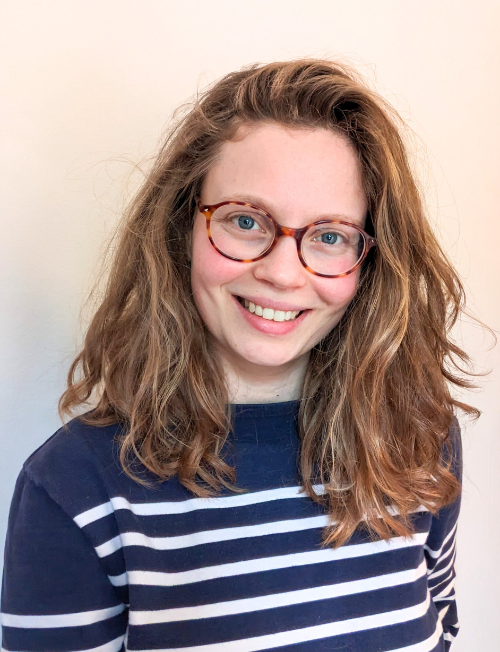 EMMA WERNER
Content Producer
Emma works with Sally to produce our audiovisual content and edits a lot of our podcasts.
She did her PhD at the MRC Laboratory of Molecular Biology in Cambridge where she researched how gut cells defend themselves against Salmonella and other bugs. She also holds an MSc in Science Media Production from Imperial College London. 
Originally from Paris, she usually spends her non-working hours conforming to stereotypes by indulging in cheese and unsuccessfully seeking out authentic croissants.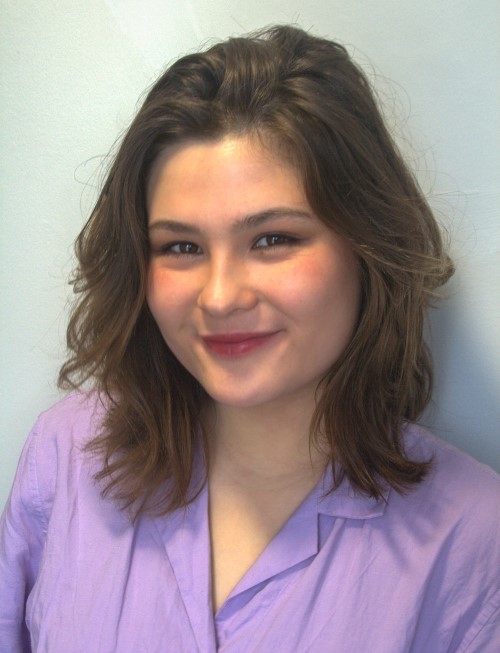 MIYAKO ROGERS
Science Writer
Miyako works with the creative team to produce high-quality written content that effectively communicates and explains our clients' science.
Before working as a Science Writer, Miyako got her MSci in Biomedical Sciences from The University of Manchester. She is particularly interested in the intersection between biology and technology, always researching and eager to hear about novel ways to investigate human biology and disease.
When she's not typing away at her keyboard or scribbling down notes, Miyako enjoys rollerskating, snowboarding and ballet – unless she's tired, in which case she'll be crocheting another outfit for her cat, Alice.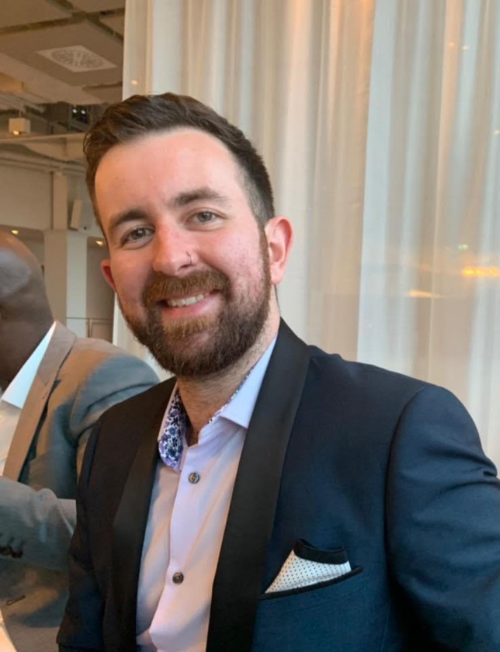 MATT PARKIN
Office Administrator
Matt is our extremely helpful Office Administrator working within the Operations Team here at First Create The Media. 
Matt has worked in Customer Services / Business Administration and Development for many years within the construction, insurance and fitness industries.
His career highlight so far is once being rewarded for all his hard work with an all expenses paid trip to Chicago. When he isn't helping the agency stay on top of things, Matt likes to cook, play video games and most of his spare time is taken by his new dog, Ronnie!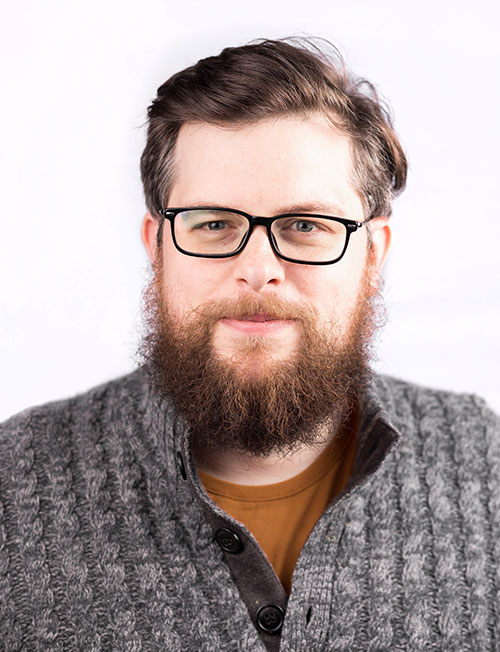 MARTIN ROBBINS
Business Advisor
Martin is in charge of our business strategy.
He holds a first class degree in Computer Science with Artificial Intelligence. Alongside his role at First Create The Media, he works as a product strategist in health-tech, as well as being a consultant in applied machine learning and freelance writer.
In his spare time, Martin loves travelling, eating good food and enjoying single malts.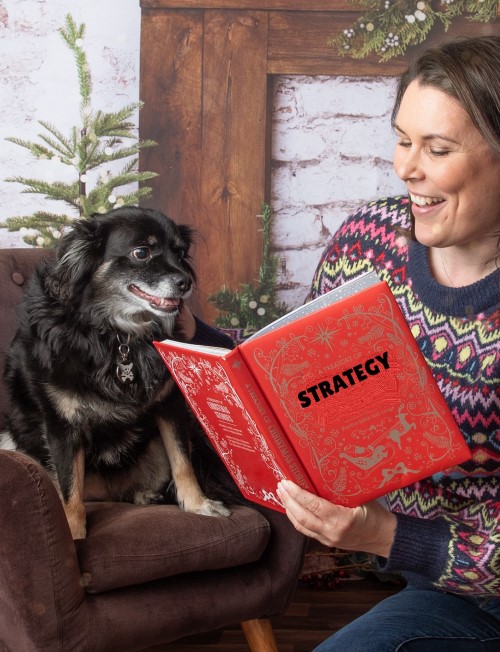 JURA HAZELL
Chief Canine Officer
Jura is Sarah's five year old doggo and is a loveable and energetic bundle of floof.
Jura has been Chief Canine Officer since June 2022 and is settling into her key strategic role. She oversees our growing canine division whose primary function is team morale and makes important decisions such as when to stop walking and when to demand to be carried. She also keeps an eye on Ronnie during their "Field Trips" where they usually settle on agreeing to disagree about whether it's food or nap time.
In her spare time Jura loves to cuddle, enjoys tummy rubs and barking at passing bicycles.
RONNIE PARKER-PARKIN
Director of Naps & Snacks
Ronnie is Shannon and Matt's four year old Retired Racing Greyhound hailing from Ireland.
Ronnie joined the team in March 2023 and works with Jura in the canine division using his exceptional talents at sleeping and eating to motivate the team and drive morale.
A former athlete, Ronnie was known as Hopes Bullet in his racing career, a striking stage name in stark contrast to that of his brother who is called Wedding Cake.
Ronnie loves fashion and his favourite thing is sleep, sleep and more sleep. He is excited to see what he can bring to the company, besides all of the ear scritches.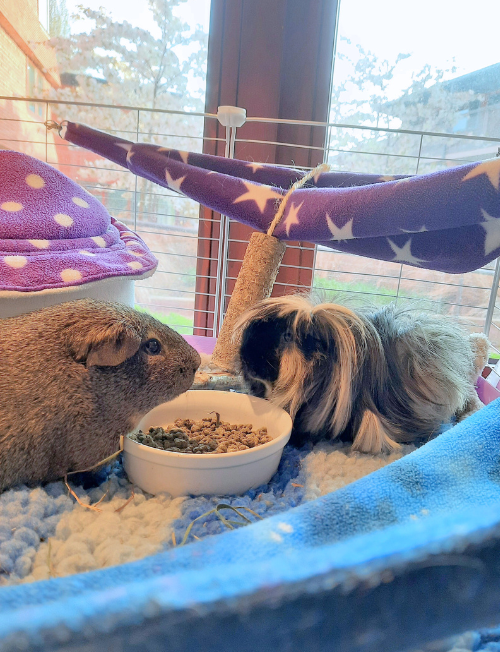 PROF PEPPER & DR GIZMO
Co-Heads of Hay & Snuggles
Pepper & Gizmo joined the team with Fergus in May 2023. As honorary members of the canine division, they use their talents at looking cosy to maintain team morale and wheeking at regular intervals to ensure a constant hay supply!
Independent of their role at First Create the Media, they share science content on Twitter and Instagram @PiggiesInSTEM.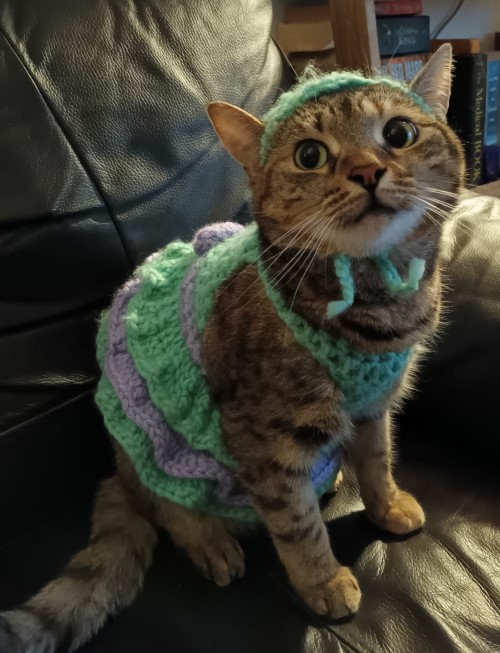 ALICE
Manager of Belly Rubs and Attention Seeking
Alice is Miyako's 6-year-old cat who has retired from her former life on the streets for the comfort and luxury of a home with two very obedient servants.
She joined the team in July 2023 and is looking forward to using her talents in meowing sweetly and making kitten eyes to remind us to take a break and have a cuddle, boosting team morale.
Like Ronnie, she is also a fashionista and enjoys sporting new crocheted fashion looks and posing for the camera.
JOIN OUR TEAM
Apply to join our freelancer pool
We're always on the lookout for new talent to join our freelance pool, including writers, editors, account handlers, PR professionals, audio/video producers, animators, designers and social media superstars with experience and background in life sciences and health for our contractor pool.
If you think you've got the science chops and sparkling comms skills we're after, pop your details in the form below and we'll be in touch.